Deep Links
The Woodsmen
"This is the water and this is the well. Drink full." - The Woodsmen in Twin Peaks, Season 3
I took a brief hiatus last week in an attempt to get some much-needed rest and recovery while I quietly celebrated my 50th birthday (ouch). As usual, things didn't work out exactly as planned - I didn't get much rest, but it was a well-needed change of scenery. The San Juan Islands which arguably are one the most beautiful spots in the world, enabled me to at least spend more time hiking/walking/thinking and just being.
Right before sunset one afternoon, I jetted over to Lime Kiln Point, aka "the whale watch park" (where the picture above was taken). Unfortunately, I didn't see any whales this trip — but was great to get time to take it all in.
No one else was there; just me, the sky, the water, the air, the sunset.
Breathing. Absorbing. Thinking. Walking.
I've been discovering how much of a creative act walking actually is. Looking inward. Listening to yourself.
It reminded me of a scene towards the climax of the movie "The Secret Life of Walter Mitty", in which Sean O'Connell (played by Sean Penn), spent hours watching a rare white tiger and hesitates before taking a photo:
"Beautiful things don't ask for attention"
And that
"If I like a moment, for me, personally, I don't like to have the distraction of the camera. I just want to stay in it. Right there. Right here."
In the craziness of today's world, I'd recommend doing something similar. It's helping reset a few things for me, making me feel more alive. More in touch. Be in the moment.
Highly recommended. :)
If you're interested in my daily ramblings, follow me on Twitter or my posts on this blog.
Forward Thinking
James Hoffmann won the World Barista Championship in 2007 and has one of the most entertaining and informative YouTube channels for coffee enthusiasts. While I search his site often for reviews on various equipment or techniques, I reallyenjoyed his brilliant work in "Drinking Donuts (In Coffee)"
Latest Obsession
I drink a ton of tea. Like, a LOT of tea. Recently I talked about the best tea infuser, this week I want to share my favorite loose-leaf tea: No 40 - BonBon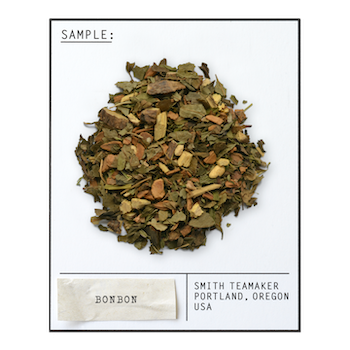 Described as "A delightful, caffeine-free confection in a cup, combining the creamy flavor of Northwest grown peppermint leaves with sweet cinnamon, licorice, ginger, and distinct notes of chocolate. One sip and you'll feel like a very grown-up kid in a candy store."
I steep 3 or 4 cups a day of this stuff. Totally addicted.
This weeks "Deep Links"
Here's a few of the articles and videos that resonated with me over the last week:
Fin
This week I'm going to leave you with David Lynch's daily weather report. The "Twin Peaks" creator, for some reason only known to him, has been delivering the weather from LA relentlessly every day since May of 2020.
It's wild. Brilliant. And totally David Lynch.