Be a Goldfish
"You know what the happiest animal on Earth is? It's a goldfish. You know why? Got a ten-second memory. Be a goldfish, Sam." - Ted Lasso
Naomi Osaka took a public stance on mental health issues a few weeks back. While a large number of media, celebrities, and news applauded her honesty and bravery, others brutally criticized her. One even sunk to the depths of calling her "an arrogant spoiled brat whose fame and fortune appears to have inflated her ego to gigantic proportions." (No link, will not give them clicks).
I find this type of attitude disgusting and I'm sorry if some of you unsubscribe.
It may be a bold statement, but I firmly believe that everyone is dealing with problems they don't advertise. While society today revolves around people's perfect Instagram appearance, when you peel back the photoshopped square exterior, often life is way 'harder than it looks and not as fun as it seems'.
While social networks are now being attributed to "high levels of anxiety, depression, bullying and the 'fear of missing out'", it's important to recognize that your colleagues/team/friends/family are all dealing with their own unique issues.
We're all not perfect, and we're all on the journey together. Personally, as someone who's had to deal with my own health scares, I've been finding tremendous healing and recharged purpose if you take a minute, reach out, be a human being.
If you are struggling, reach out to others. You are not alone.
Closing out this week's headline video, I recommend Kate Bowler's wonderful TED talk on "Everything happens for a reason - and other lies I've loved".
Be well friends.
---
The National Suicide Prevention Lifeline at (800) 273-8255 can be reached 24 hours a day by people of all ages and identities.
---
If you're interested in my daily ramblings, follow me on Twitter or my posts on this blog.
Forward Thinking
I'm sure everyone is equally as excited as I am for Ted Lasso, Season Two to drop on AppleTV+ on July 23rd. Here's a trailer in case you've been off-planet and missed it:
The series has quickly become a beacon for a new type of coach/leader, someone many strive to become. Articles such as "Leadership Lessons From Ted Lasso" to "Lessons from Ted Lasso on leadership", articulate common themes that are worth reflecting upon (in no particular order):
Humility gives you greatness.
Listen to everyone.
You have to enjoy the process.
People are the most important part of any organization, and motivation changes person to person.
In a team, the "I" does not exist.
New talents + experience.
Surround yourself with people who are not afraid to tell you the truth.
Never underestimate the element of surprise.
Believe.
Latest obsession
Last week I wrote about Whiskey and alluded to magical cherries. This week, we are going to talk about Luxardo Maraschino Cherries.
Epicurious describes them in perfect detail:
Out of the jar or tin, Luxardo cherries are nothing like the candy-apple red lumps bartenders plunk into kiddie cocktails. They are a touch of class, the dark, perfect capper to a stiff drink. Their red is so deep, it's almost black; their syrup thicker than molasses on a chilly day. The taste is nutty like Amaretto and fruit-forward, without the sticky and acrid taste that waxy imitation maraschinos have. Slip one into a classic cocktail and there's no comparison.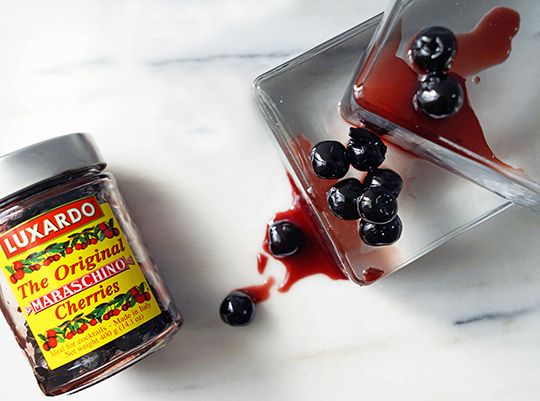 And yes, they are worth the money.
These are great in mixed drinks, and even more importantly, on ice cream.
This weeks "Deep Links"
Here's a few of the articles and videos that resonated with me over the last week:
Fin
While I've been researching mental health this week I came across this compilation video of Anthony Hopkins on "What is the Meaning of Life".
Next week I need to need to get less serious for a moment. Stay tuned and see you soon.